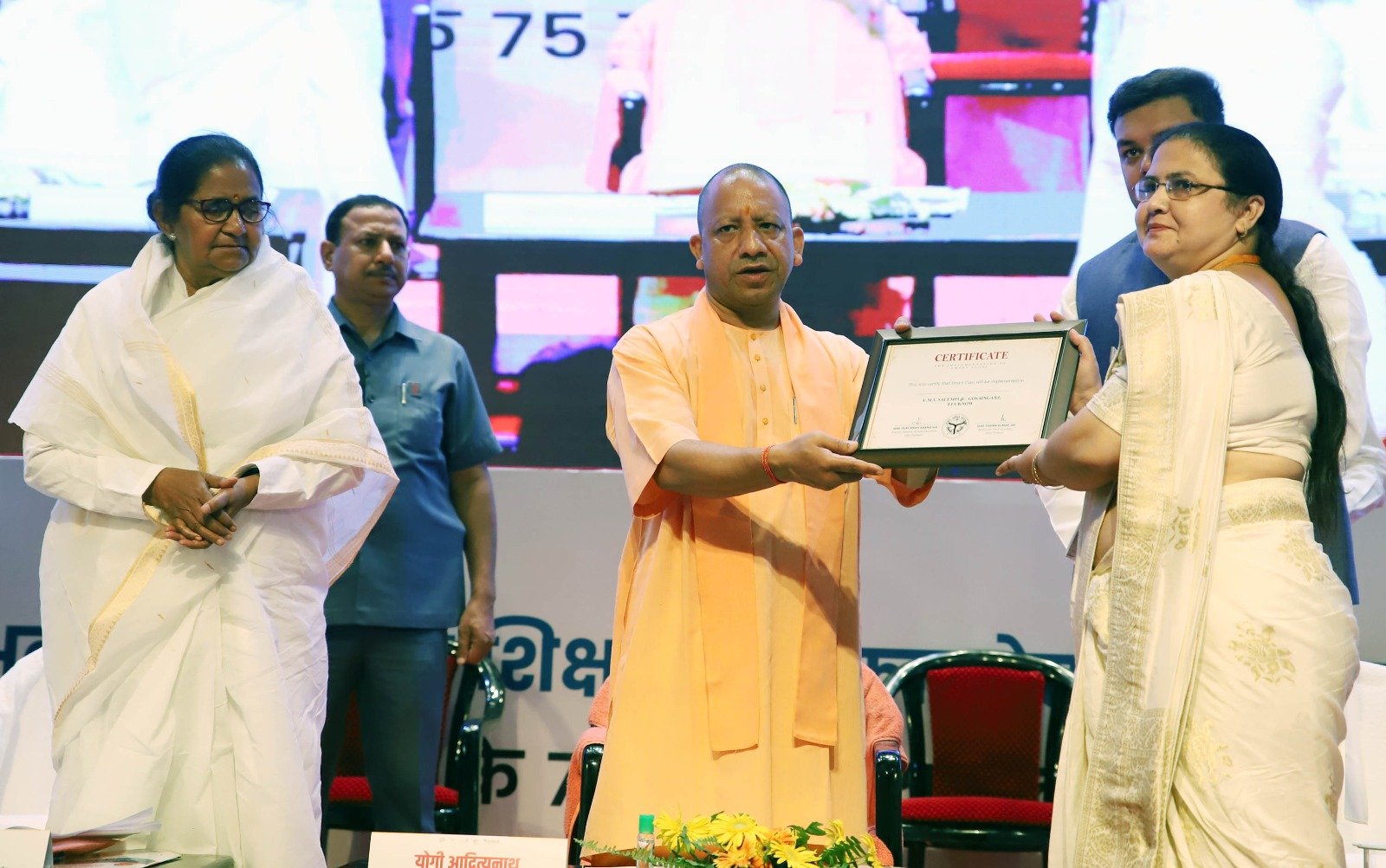 newsbasket.in
Teachers should be students' idols; incorporate morning assembly in curriculum: CM Yogi
Chief Minister felicitates 94 teachers selected from across the state on Teachers' Day
Lucknow, September 5: "Put your best effort into improving the present generation. Include morning assembly in the curriculum. The future generations will remember you throughout their lives. In the past, teachers worked with limited resources and low wages, yet their contribution towards building our personalities and inspiring us to fight against challenges were immense", said Chief Minister Yogi Adityanath on Tuesday.
Honouring 94 teachers selected for the State Teacher Award on the occasion of Teachers' Day, Chief Minister Yogi Adityanath remembered and paid tribute to Dr. Sarvepalli Radhakrishnan. He acknowledged six basic education and six secondary education teachers by giving them citations, mementoes, and shawls. An amount of Rs 25000 has already been sent to their accounts.
He also launched a programme to distribute 2.09 lakh tablets as well as inaugurated 18,381 smart classes and 880 ICT labs in the state.
CM Yogi said that Dr. Sarvepalli Radhakrishnan's statement about the pivotal role of a teacher in nation-building has been a tradition in India. Throughout history, teachers in India have been acknowledged for their contributions and revered for their dedication to shaping society. However, over a period of time, two different sides of teachers have emerged. "On one hand, there is the bright side, where educators fulfill their role as nation builders, guiding the current generation across all aspects of life, and on the other, there exists a darker side, where teachers abstain from teaching and spend their days in offices and residences of educational officials, playing havoc with the future of the present generation", the CM said.
"It is a pleasure that 94 teachers from the state are being honoured for their remarkable contributions. Their achievements serve as a source of inspiration for others, and we take great pleasure in recognizing their outstanding work", he added.
Chief Minister conveyed to the teachers the significant responsibility they bear as contributors to the advancement of society and the nation, while also serving as inspirations for the present generation. He, however, emphasized that failing to adapt to the changing times could result in regression.
The Chief Minister noted that the implementation of the new National Education Policy in 2020 and several related schemes, amid the challenges of the Covid-19 pandemic, and expressed his happiness over the Basic Education Council's decision to distribute 2.09 lakh tablets to primary schools, ensuring that each school received two tablets.
These tablets would not only facilitate access to new educational content but also assist in uploading school-related information. This campaign has marked a significant step forward, enhancing the teachers' technological capabilities, and making them formidable contenders in the field, he pointed out.
On inauguration of 880 ITC Labs and introduction of smart classes in 18,381 upper primary and Kasturba Gandhi schools, CM Yogi said that smart classes should not be restricted to upper primary schools and Kasturba Gandhi Vidyalayas and, instead, efforts should be made to make them accessible to every primary school through coordination with former students, village residents, Education department and administration officials and public representatives.
CM Yogi highlighted how these smart classes would elevate and transform the educational experiences of children attending these schools. He shared his personal observation in Chitrakoot, where he witnessed a smart class being conducted by a girl of third standard.
He pointed out the remarkable transformation of schools that had received substantial investments through Operation Kayakalp, urging principals, teachers, and village leaders of remaining schools to prioritize connecting them with Operation Kayakalp and completing the program within the year. CM Yogi further stressed the necessity of ensuring that every school has a playground, suggesting the utilization of Gram Panchayat land for this purpose.
"There is a need to incorporate schools affiliated with secondary education with such programs. Under the Project 'Alankar' framework, there's a requirement to revitalize all older schools. Through their quiet dedication and the resources they possess, these schools have played an integral role in shaping both past and present generations of India, said the Chief Minister.
"On one occasion, I visited a school right here in Lucknow. The school building wasn't as big, as the number of trees that had grown on it, speaking volumes about the neglect that it had been subjected to. There should be a collective commitment to ensuring that cobwebs, dust, plastic usage, and the consumption of gutka or tobacco are all forbidden from the school environment", remarked CM Yog.i
Chief Minister stated that a teacher should embody the ideal through both their actions and their personality. If school is scheduled to commence at 9 o'clock, students should be present by a quarter to 9, and teachers should arrive at least half an hour prior to that, he said.
VARANASI TRAVEL